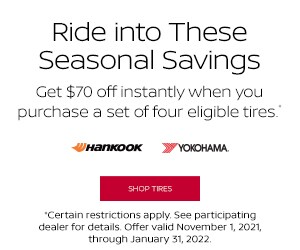 Schedule Nissan Service Near Cleveland
At Ron Marhofer Nissan near Akron, Ohio, your safety on the road is very imperative to us. Our Nissan service department is staffed with highly skilled technicians that can certainly handle all your vehicle's needs. Whether it's scheduled maintenance, major repair needs, or anything else, we can handle it all. Not to mention, we use the latest and greatest technology to insure the best Nissan service experience on your vehicle with no questions asked! In other words, our technology can treat new, used, and old vehicles with no problem.
Here at Ron Marhofer Nissan in Cuyahoga Falls, we offer scheduling all day long so we can accommodate you. After all, your vehicle is our number one priority, so you should be able to find the right time to get a high-quality Nissan service experience with us. We understand the importance of oil changes, tire rotations, and other essential maintenance needs. So let us work on your vehicle while you take care of other important things or just need to relax. To make matters even better, feel free to browse through our Nissan service specials and find the right deal for you depending on what you're looking for. If you have any questions or would just like to meet the team, pay us a visit at Ron Marhofer Nissan near Cuyahoga Falls. We can't wait to service your vehicle!