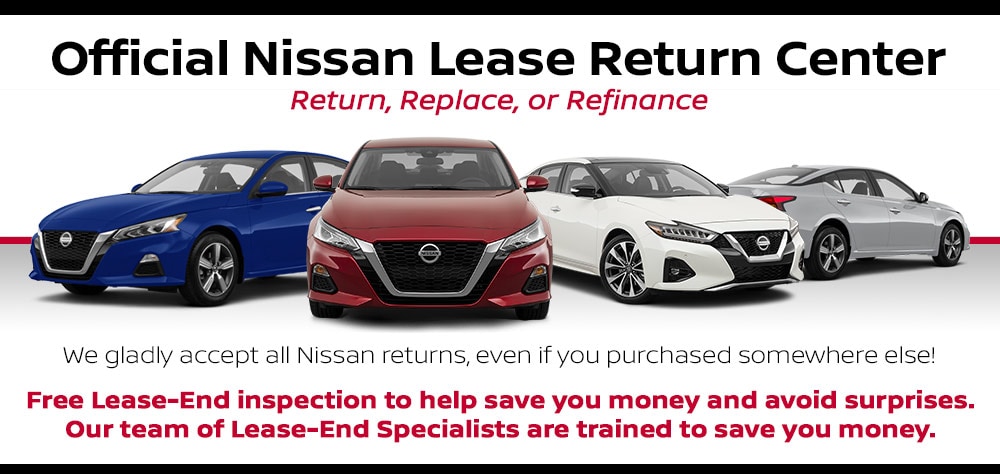 Schedule Your Consultation Today
Ron Marhofer Nissan - Your Lease Return Destination
Nearing the end of your lease? Ron Marhofer Nissan is a Certified Nissan Lease Return Center and the first stop in exploring your options. We can help you avoid unexpected and expensive lease termination charges, excess mileage charges, and excessive wear and tear charges. We have Lease Return Specialists on hand to make the whole process easy and give you personalized upgrade offers and vehicle purchase plan alternatives. We also offer free Lease-End inspection to help save you money and avoid costly lease end surprises. Our team of Lease-End Specialists are trained to save you money. Here are the options available to you once you're ready to turn in your vehicle:
Option 1: Lease Or Purchase A New

Nissan

Ron Marhofer Nissan has one of the most extensive inventories of new Nissan's in the Cuyahoga Falls area. Whether you want an updated version of your current model or are looking to get into something different, our Lease Return Specialists are on hand to help you secure a lease or financing plan for your next new Nissan.
Option 2: Purchase A Pre-Owned Vehicle
Interested in a Certified Pre-Owned Nissan? Our technicians follow a stringent inspection process in certifying our preowned Nissan's, so you can be assured you're getting a high quality vehicle. If you decide you're interested in exploring another brand, our selection of preowned vehicles simply can't be beat. Plus, we have the easiest financing options to get you driving your new vehicle with a payment that fits your lifestyle and budget.
Option 3: Hang On To The Nissan You Love
If you've enjoyed your Nissan and want to keep it, Ron Marhofer Nissan's convenient Lease-To-Own option makes it easier than ever. Our qualified Lease Return Specialists may even be able to negotiate a lower price for a buy out based upon current market conditions. Regardless, we will get you into a personalized purchase plan that fits your needs.
Please contact one of our Lease Return Specialists today at (234) 245-6026 or click here to schedule your consultation!