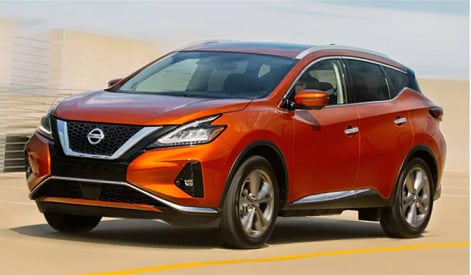 The
2021 Nissan Murano
in Cuyahoga Falls is one of the most popular Nissan models out there! Any driver wants to feel safe, supported, and comfortable when riding in a car, truck, or SUV. These are all great reasons to want a Nissan Murano. However, there are amazing performance features added to this family-friendly Nissan SUV that make it all-the -better! Let's take a look at the top 3 performance features of the new Nissan Murano.
1. Nissan Murano All-Wheel Drive
The 2021 Nissan Murano near Cleveland, Ohio has an incredible all-wheel drive performance feature that simply adapts to changing conditions. An all-wheel drive also allows for you to not engage the system nearly as much when driving. This way you can focus on where you're going instead of what you're doing. In addition, this system can automatically change from 2-wheel, 4-wheel, and back to all-wheel drive for the best fuel efficiency and better cornering. The all-wheel drive continues to be at its best and keeps getting better!
2.
Nissan Murano Hill Start Assist
The Nissan Murano Hill Start Assist is also an amazing performance feature by Nissan. Of course this feature is very accommodating when going up a hill. It allows you to keep persisting up a hill instead of rolling backwards. Sometimes, there's a car that's too close behind you when going up a hill. This feature allows you to switch from the brake to the accelerator for better control. This feature works by sensors detecting when your Nissan is on an incline. This is a great reason for the Hill Start Assist feature. You'd be surprised how much you need this feature until you're constantly going up a hill.
3. Nissan Murano 4-Wheel Independent Suspension
The Nissan Murano also has an amazing 4-wheel suspension which offers each wheel to move independently from the rest of the suspension. This allows for a more steady and comfortable ride anywhere you go! For instance, when you have to turn a corner or go over a harsh bump, the 4-wheel independent suspension will make sure that the ride is as smooth as possible. Furthermore, by these wheels moving independently, all 4 wheels will consistently touch the ground which will allow you, as the driver, to have the utmost control of your Nissan Murano.
2021 Nissan Murano For Sale at Ron Marhofer Nissan in Cuyahoga Falls!
There are plenty of reasons to purchase a 2021 Nissan Murano, but these reasons certainly take the cake! At Ron Marhofer Nissan near Cleveland, we have a great selection of Nissan Murano's just waiting for you! A Nissan Murano is an amazing family- friendly SUV, but is just as useful for a single person. If you're looking for style, space, comfort, and outstanding performance features, stop by Ron Marhofer Nissan near Akron, Ohio to browse through our Nissan Murano selection. Also, if you have any questions at all, contact us so that we can lead you in the right direction. We're looking forward to seeing you soon!