Get to Know the Big, Bold, Beautiful 2017 Nissan Rogue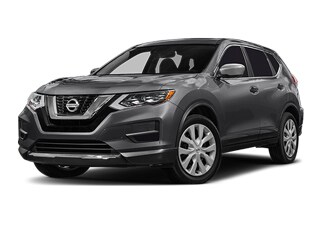 The Nissan Rogue has garnered a lot of attention recently, and for very good reason. Fresh off a mid-cycle refresh, the 2017 Rogue is looking more stylish and sportier than ever. It features that signature Nissan V-Motion front grille with more angular LED Daytime Running Lights peering out from the front fascia. Chrome trim gives the Rogue a bold look from any angle, while a redesigned bumper ties the entire look together. In addition to a fresh, new style, a Rogue Hybrid model joined the lineup, making Nissan one of the few SUV makers to venture a hybrid SUV in its line. New available features, like a kick-activated liftgate or Lane Departure Warning System also appear thanks to this refresh, making it an even fiercer competitor for other compact SUVs out there.
The 2017 Nissan Rogue offers some awesome features to make life in on the road (and in the Rogue) even better, like the available Divide-N-Hide Cargo System, available BOSE® Premium Audio System, or the available Siri® Eyes Free feature. NissanConnect's™ available navigation system keeps you headed in the right direction while available Intelligent Safety Shield Technologies give you some much-needed backup when it comes to on-road safety.

Big-Name SUVs Square Off: The 2017 Nissan Rogue VS. the 2017 Honda CR-V
One of the 2017 Rogue's most bitter rivals? The 2017 Honda CR-V. As you're doing your due diligence and researching all your SUV options, we hope to make the task just a bit lighter with this quick comparison between the 2017 Nissan Rogue and the 2017 Honda CR-V. Take a moment to peruse, then join us in our local Cuyahoga, OH Nissan dealership to find the Nissan Rogue for you!
Let's start off where most folks look first: sticker price. The 2017 Nissan Rogue starts at $23,820, which is under the starting MSRP of the 2017 Honda CR-V. So, you'll pay less for your Rogue, yet the 2017 Rogue offers superior fuel economy to the 2017 CR-V, forcing us to ask what exactly you're paying more for in the CR-V.
Another place the Nissan Rogue gives you more is behind second-row cargo room.  Not only will you find more cargo room behind the second row in the 2017 Rogue than you will in the 2017 Honda CR-V, but only Nissan offers the available Divide-N-Hide Cargo Management System, which allows you to really customize and configure your cargo space, so not only will you get more of it, you can better utilize it in the 2017 Rogue, too.
If you don't care for a spacious, comfortable cockpit, then you might enjoy the 2017 Honda CR-V and its inferior front leg room, but if comfort is a priority for you, the Nissan Rogue's 43 inches of front leg room will probably appeal to you and your feet. Throw in the fact that the 2017 Rogue offers superior front headroom to the CR-V and you'll probably find yourself a little more comfortable in the driver's seat of the Rogue than you will in the CR-V.
Both the 2017 Honda CR-V and the 2017 Nissan Rogue offer fold-flat second row seating, but only the Nissan Rogue offers available EZ Flex® Seating System, which doesn't just fold flat, it lets you recline, tilt forward, and slide for easier access to your cargo area or optional third-row seats.
And while it's true that most popular SUVs out there now offer Tire Pressure Monitoring Systems, only the 2017 Nissan Rogue offers its Tire Pressure Monitoring System with available Easy-Fill Tire Alert, which doesn't just tell you when your pressure is low, it tells you which tire specifically needs air, and even gives you a small honk of the horn when you've filled to optimal tire pressure, taking the guess work out and putting you on the right track without a hitch. No leafing through your manual to see what your tire pressure should be, just check, fill, and drive. Simple as that. The 2017 Honda CR-V might be able to tell you when your tires are low, but that's about it.